Just as our natural environment is the product of a complex ecosystem, the global push toward a more sustainable future requires cooperation, visibility and data sharing across businesses, governments and individuals.
While that might seem like a daunting task, it's actually working for a number of supply chain partners today. Businesses can more efficiently and effectively achieve their sustainability goals by joining the developing circular economy that is producing real-world results.
Sustainability means many different things to different people, but as it applies to businesses it requires the development of a set of operating priorities that support the creation of long-term value for all stakeholders.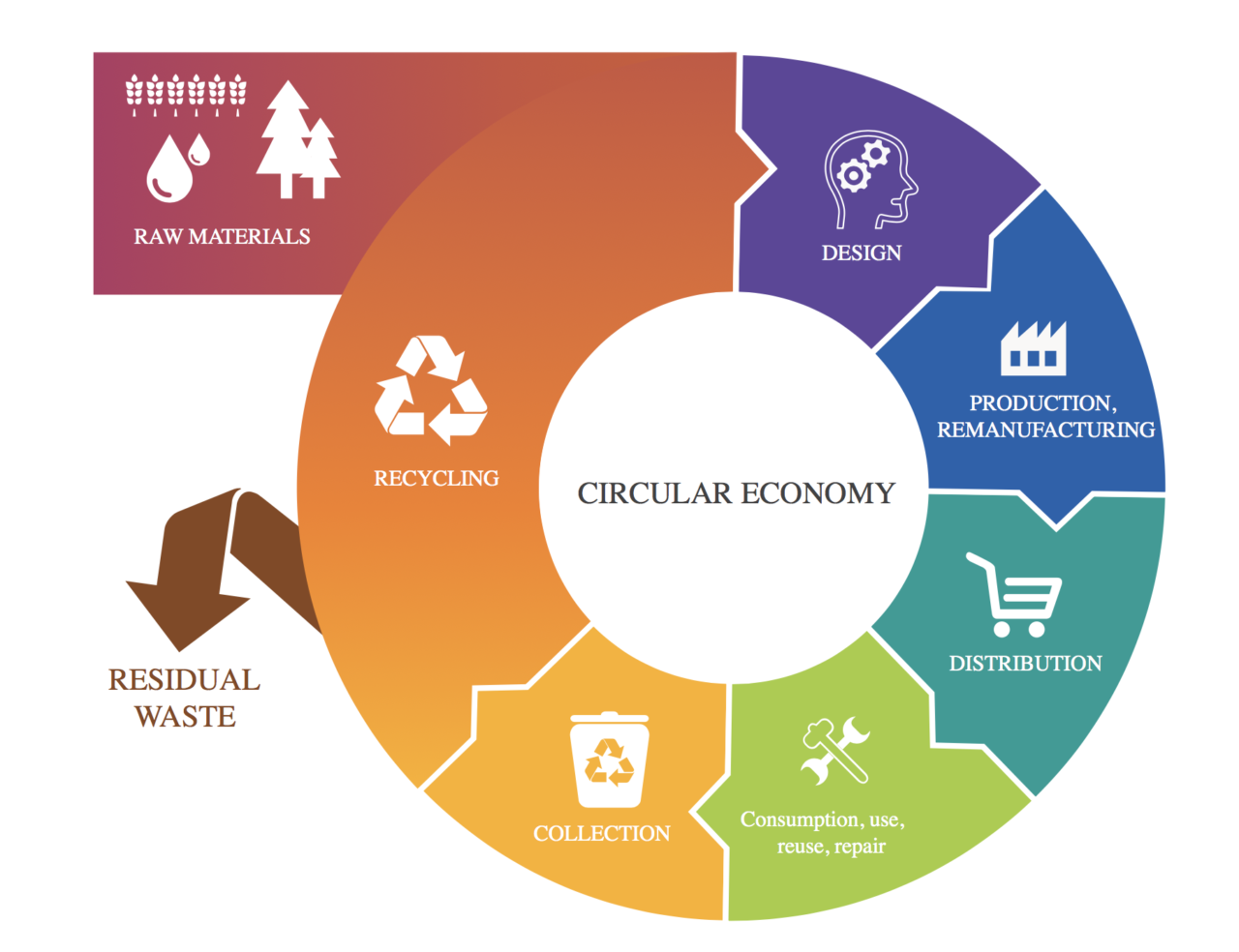 Though each organization has its own unique needs, priorities for reaching sustainability goals should include some or all of the following commitments:
Decarbonization in support of the 1.5-degree Celsius warming target to control global warming;
Ethics that foster a culture of trust, adherence to ethical standards, and handling data with care;
Governance that applies state-of-the-art systems for effective and responsible business conduct;
Resource efficiency to achieve circularity and de-materialization;
Equity to foster diversification, inclusion and community development for a strong sense of belonging; and
Employability, enabling people to stay resilient and relevant in a permanently changing world.
KPIs can be developed for each of these commitments to measure success and hold the organization's team accountable.
For the purpose of illustrating how the process works in supply chain and logistics, this report will explore the decarbonization aspect. It's where much of the environmental impact occurs in the operations of many large businesses.
As an example, de-carbonization goals might be set for a net zero supply chain by 2050. A key factor for that achievement would be to reduce operating emissions 55% by 2025 and 90% by 2030.
Pressure for a company to make progress towards this type of goal is coming from at least three directions.
First, corporate leaders have recognized the need to operate in a more sustainable way and corporate governance has expanded to embrace this new reality. Now there are sustainability leadership roles in management and at the board level. This has created a greater need for visibility across all aspects of the enterprise, both to manage the risk of failing to achieve sustainability expectations, as well as to realize the opportunities those expectations present.
This is motivating businesses to break down silo walls. Achieving sustainability objectives requires a common understanding and focus within each individual business function to view success from the broader, enterprise perspective.
Next, there is an imperative on the customer-facing side of every business where success depends on working to support sustainability in ways that have not been natural to any single vertical function.
Finally, the investor community is keenly aware that changing sustainability expectations are going to have an effect on corporate profitability and viability. Many investors are gravitating toward companies that have targeted longer-range value to reduce the risk of failing to meet sustainability goals.
Mutual Benefits
By encouraging more open external communication, organizations can achieve a significant multiplier for their sustainability efforts. The emission footprint might be small compared to the sum total of the customers' impact, but the use of the organization's products by customers can create a relatively massive effect. As an example, compared to the amount of greenhouse gas emissions created by logistics operations, the products themselves could help reduce many times more emission from customers. So, by providing products that are designed with the goal of reducing waste and emissions, it's possible to support even greater sustainability than when looking at the individual organization.
Beyond the immediate commercial needs that drive business decisions, there is an additional focus on an emerging regulatory regime that is — in some instances — removing the option of ignoring the subject of sustainability.
Depending on where business is being done, these regulatory pressures can be greater or less. In reality, though, the nature of global supply chains often makes it necessary to adopt standards that will meet the most stringent requirements, even if they don't exist everywhere products are distributed.
A current example is the developing EU Taxonomy classification system for identifying which economic activities a company undertakes — or invests in—can be classified as environmentally sustainable.
Even if the U.S. isn't currently as advanced as the EU in this regard, developments such as the Securities & Exchange Commission's creation of its Climate and ESG Task Force portends the likely closing of any sustainability policy gaps between world regions. The SEC Task Force is developing methods of analysis to identity potential violations "…including material gaps or misstatements in issuer's disclosure of climate risks…"
Long-range planning must include the recognition that moving towards sustainable practices is becoming less of a choice and more of a requirement.
Each business must, of course, adapt to these changes in ways that are most practical and beneficial to its own unique circumstances.
Unique Solutions to Achieve the Common Goal
Meeting a commitment to reduce emissions 90% by 2030 would require significant changes for any supply chain partner, and would include examining vehicle type and usage, offices and manufacturing spaces and electricity consumption. For example, a switch to electric vehicles could be considered.
Performing an energy audit can help companies to understand where emissions are originating. An audit will reveal ways to convert to equipment that can be powered by electricity generated by renewable resources rather than natural gas. That is a significant challenge because certain processes require high heat. But innovators are beginning to find technology that can enable the use of electricity even in these applications.
On another front, businesses can consider undertaking the development of renewable energy sources on site, such as solar panels on roofs and parking lots. Then, if these solutions still leave shortfalls, another option is to purchase renewable energy certificates.
These proposed solutions can add value for both providers and customers who may share similar operating footprints, and they illustrate why no one company can achieve meaningful sustainability targets alone.
Creating successful partnerships in this environment is best supported by an ecosystem that includes sharing input between partners, and then filling in gaps by relying on each other to reach mutual targets. This applies to both the private sector and the public space where regulatory jurisdictions must be understood and respected.
This is where the benefits of supporting and participating in the newly emerging circular economies become evident. Within this economy there is a need for a new type of supply chain in which all partners bring their best ideas, practices, and products to the table.
While some sectors, such as automotive or foodstuffs, might seem more easily adaptable to circular supply chains, the challenges and opportunities are similar across most industrial and manufacturing organizations.
With increasing momentum, the corporate sphere is moving away from a linear economy in which material supply moves to production, use, and finally disposal, resulting in a large amount of waste.
An Evolving Cycle
The emphasis now is on joining a virtuous cycle that requires a commitment by producers to make the most of their products and to extend their lifecycle in many different ways.
Rather than only recycling what can be recycled, used products are being repaired and reused and/or their component raw materials are extracted for reuse internally or by other industries. There is a growing recognition that something created in one company likely can have another life in another industry. When that cycle encompasses multiple producers and industries it can create a natural circular momentum that supports itself and no longer needs to be driven by individual participants.
Such a cycle creates an expanding need for logistics services. All supply chain participants will look to logistics for deep visibility into product life cycles to connect those who have resources that can flow from existing products to those who need them.
Digitalized logistics service providers are now positioned to play a greater role in support of the circular economy. Data will need to be shared across a much wider ecosystem of raw materials providers, manufacturers, retailers and even consumers. All these parties need visibility — to an extent — into the data available from other parties.
This is pushing all market participants to step up and make new commitments to achieve shared benefits that will be greater than can be achieved operating in a siloed approach.
In short, the business community can and will play a vital role in support of a more sustainable world. This will be accompanied by a stronger emphasis on corporate responsibility because that is an essential part of this process. Ethical behavior and compliance are non-negotiable, and go beyond strict adherence to rules. Instead, the growth of the circular economy and the logistics evolution that supports it are placing responsible action at the core of business culture and conduct.
It's clear that developing technologies to boost efficiency, productivity and transparency will pave the way to a more resilient and sustainable future.
This article was originally posted by: Supplychainbrain